Amidst all the triumphalism in the Tory press this morning, did anyone happen to notice Macron's body language during their joint presser yesterday? There was a point when our glorious leader was lying through his teeth about the meaning of Merkel's '30 days' line and Manu's index finger was spasming so hard against the lectern that it looked like his digit was ineffectually cosplaying Woody Woodpecker.
I was doing quite a lot of professional spasming this week too, not least because of the realisation that next Thursday I have to deliver a two-hour presentation to 100-odd people at one of the agencies I work at. I am therefore obviously going to spend the majority of the weekend catatonic with poisons so as to engender the MAXIMUM degree of slightly wonky fear which will hopefully propel me over the finish line as I start writing the bloody thing on Tuesday - WISH ME LUCK, WEBMONGS!
Anyway, enough talk of WORK - it's a three-day weekend! It's carnival! It's going to be nice weather! DON'T THINK ABOUT THE BURNING RAINFORESTS AND BOLSONARO AND TRUMP AND JOHNSON AND FARAGE AND ORBAN AND BEZOS AND ZUCKERBERG AND DORSEY OR ANY OF THE OTHER BAD THINGS! Instead, take a deep breath, bend over and place your head into the hole I've helpfully dug for you, and then enjoy the gentle, tickling sensation as I fill it up around your ears with infosand - see, it's better this way. It's safe inside the web (it's not safe). I am Matt, today is Friday, this, as ever, is Web Curios, and YOU deserve every inch of it.
By Daehyuk Im
LET'S KICK OFF WITH THE LATEST AND GREATEST SUPERMIX BY INTERNET ODDITY SADEAGLE WHICH IS, AS EVER, TRULY SUPERB!
THE SECTION WHICH IS ONCE AGAIN SADLY SCEPTICAL ABOUT THE MASSIVE ADVERTISING COMPANIES' CLAIMS THAT THEY'RE GOING TO MAKE THE AD TRACKING LESS CREEPY AND INTRUSIVE:
Off-Facebook Activity: It is, it's fair to say, becoming quite hard to keep up with the various initiatives being announced by Facebook et al to reassure us that no, honestly, we're the ones in control of our data and who can advertise at us - you'd obviously have to be a terrible cynic and possibly a communist of some sort to believe that this was in any way an intentional side effect of the massively obfuscatory language continually used to talk about all this, and the continued lack of any sort of easily-accessible/digestible guide to what all these different tweaks are and how they interrelate to each other. This latest news is about how Facebook is slowly beginning to roll out its long-promised 'clear history' function, promised by Zuckerberg over a year ago - users in Ireland, South Korea and Spain will now be able to get more detailed information about the information other apps and websites have sent Facebook about them, de-link that information from their profile, and prevent this sort of data-sharing happening in future. Note, by the way, that the word 'delete' is at no point mentioned; the data is in fact not deleted, it continues to sit on Facebook's server farms, which is slightly different to what was promised. Note also this news from the other week, about how Facebook has developed systems which will allow ad targeting of users without the use of their personal data and instead based on learned personas, etc, which does rather suggest that the creepy ad stuff isn't going to stop anytime soon.
Twitter Bans Ads From State-Controlled Media: A response to the past few weeks' apparent propagandist ad buys by Chinese media, in which promoted Tweets spread across Twitter decrying Hong Kong protestors' violent ways in a in-no-way-state-orchestrated campaign. It feels like a superficially Good Thing, though there are some obvious grey areas - Twitter's definition of 'state controlled media' is "news media entities that are either financially or editorially controlled by the state", which leaves a few interesting questions about organisations such as RAI in Italy, where channel controllers and senior editorial staff are political appointees and very much get their direction from whichever hopeless criminal is in charge that week.
YouTube Killing Messages: You used to be able to use YouTube as a messaging app - WHO KNEW? Anyway, you can't any more. This feels very much like an opportunity to build some sort of a plugin replacing this functionality, though when I say 'opportunity' I can't in fact imagine what benefit you'd get from doing it other than a warm sense of slightly-futile satisfaction.
Some Google Chrome Privacy Thing: On the one hand, even by my low standards for this section that is a terrible, lazy 'headline'. On the other, I challenge you to work out exactly what this announcement is saying - "we are announcing a new initiative to develop a set of open standards to fundamentally enhance privacy on the web. We're calling this a Privacy Sandbox." Ok, so they're announcing an initiative! About privacy on the web! Except, marvellously, the blog makes references to the fact that 'today' they will release more details about what this might entail...but doesn't reveal them! You have to click through to another blog to learn that...well, actually nothing at all, just that Google's thinking about some stuff around limiting fingerprinting (that is, the ability for developers to match users across websites and therefore track their behaviour and target them with specificity). I wonder why it is that we find it so hard to trust these companies?
Livestreaming Comes to Reddit: Or at least they're testing it, with users across the world having the chance this week to launch livestreams which can be voted up and down in classic Reddit fashion; the trial ran from Monday and closes today, and there's no guarantee that it will be rolled out permanently, but, well, if LinkedIn can do livestreaming, why not Reddit? The announcement is VERY CLEAR about the 'no bongo' rule, but, well, I can't imagine it'll be too hard to find.
Shelter on TikTok: The first UK charity I've seen to start using the platform; it'll be interesting to see whether or not this sticks, and whether they find the effort involved in making TikToks (is that what we have to call them? Dear God) is worth it; honestly, decent vertical video is SO HARD imho.
The Bacardi Beat Machine: An absolute classic of the 'the agency will have creamed themselves over this but I would bet actual cashmoney that noone who doesn't work in advermarketingpr will ever see this, ever' genre, this. Bacardi have made a MIXING DESK out of YouTube - except it's not a mixing desk, it's a single YT video which is designed so that, by skipping back and forth through the track using the number keys on your laptop, you can 'mix' 'songs'. It's admittedly a clever use of inbuilt functionality, but, well the track sounds crap, the 'mixing' is shonky as you like, and you can't record or export your output, meaning there's limited shareability. Still, doubtless this'll be on an awful lot of self-satisfied awards lists, so THAT'S WHAT MATTERS!
60 Years of the Clios: 60 years of the advertising awards that aren't Lions! This is a rather nice website if you're in the market for some adland nostalgia; the site presents a painting in which are hidden (not really hidden' a bunch of classic US/UK ads from THE PAST; click on the figures, read a little bit of blurb, watch the clip. It feels like this all skews a bit recent, but it's nice to see the SMASH robots lurking about in there (the fcuking Budweiser knight can fcuk off, though).
Deepfakes on Demand: You want a deepfake making for your ad, your SOCIAL CONTENT or just to fcuk with someone? FRIEND OF WEB CURIOS SHARDCORE IS NOW AT YOUR SERVICE. He's launched a commercial service, offering quotes and production on whatever deepfake you want making (except bongo. He's not doing bongo). There's a good 6-12m window when you can get quite a lot of attention doing this stuff as a brand, I reckon, so if you have an idea drop him a line.
NEXT, ENJOY THIS 8-BIT REWORKING OF MILES DAVIS' 'A KIND OF BLUE' BY FRIEND OF CURIOS ANDY BAIO!
THE SECTION WHICH CAN'T WAIT TO SEE THE EXCELLENT ANNUAL FOOTAGE OF UNIFORMED POLICEMEN DAGGERING, PT.1:
Streaming Consciousness: I wanted to include this last week, but the site was temporarily banjaxed (and WHY DO I THINK YOU CARE?! This sort of pointless digression is why Curios is so appallingly lo-Christ, I'm doing it again, sorry); it's working again now, though, so ENJOY! This is a lovely project (thanks Kev for sending it to me), stemming from 47 young people sharing their thoughts, feelings, hopes, fears, dreams, etc, in an anonymous private Slack group; those thoughts (etc etc) are now collated on this website, grouped by theme, in a sort of semi-infinite mess of emotion; there's something very personal about the way in which these are presented, and it feels not unlike being inside a collective teenage consciousness which I guess is sort of the point. The gently undulating colourcycle in the background is a touch distracting, fine, but in general this is a beautiful, meditative piece of webart which is oddly reminiscent of perennial Web Curios favourite The Listening Post.
Ishkur's Guide to Electronic Music: This is a throwback - I remember the old version of this site from a decade or so ago, and now here it is all de-flashed and HTML-happy. Ishkur's is a sort of taxonomic guide to electronic dance musical genres, offering a navigable encyclopedia of styles which shows how they interrelate with each other. You can hear short clips of each genre to help make sense of the slightly overwhelming range of stuff in here, and read (often funny) descriptions of each - fair play to Ishkur for bothering to write about the minute differences in style between fidget house and microhouse because, really, HOW DO YOU TELL? Dance music enthusiasts will get lost in this for days, but for the more casual webmong it's still a fun way to pass 10 minutes; see what the most terrifying style you can find is (clue: it is ALWAYS Gabba)!
Colournames: Yes I've anglicised the spelling, WHAT OF IT? Anyway, this is ACE and the sort of thing that if you're in the right mood could potentially take over your afternoon rather. This is a madly-optimistic project to create "an open, free and consistent source of color names"; go to the site, click 'random' and it will spit out an-as-yet-unnamed shade for you to ascribe an identity to. You'll be unsurprised to learn that there are restrictions on the words you can use, but naming a particularly virulent shade of yellow 'fcuk mustard' wouldn't be particularly big or clever anyway; this feels like the sort of thing that an entire design team could happily while away the rest of the day messing around with.
Headbanger: I can't say I particularly miss the brief trend from a few years back of websites that were controlled by motion-tracking your movements via webcam; still, this is a nice throwback and surprisingly fun (if you don't mind looking a bit silly). This is a site to accompany a new album by NY metal band Dracaris, whose latest record apparently "is connected thematically by a series of schizophrenic episodes. A tangled web of thoughts, ideas, hallucinations, all from a distorted mind" (course it is lads), and which is obviously best represented through a game of Breakout which you control by moving your head from side-to-side, opening your mouth and headbanging. Try it, it's oddly fun and there are 13 separate levels to play through - or, even better, get the person opposite you to play it and then try and throw stuff into their gob while they're open-mouthed and nodding.
Liminal Earth: SO SO GOOD! This is an evolution of a project I featured on here last year called Liminal Seattle, which I described thusly: "Liminal Seattle is a crowdsourced map, collecting the supernatural stories of the city's residents mapped to where they took place. If you want to browse around people's sightings and reports of the supernatural, and enjoy obviously totally sane entries such as "There's a man in a house who's trapped in the 3rd dimension. he died in the home and now he sits on the porch. he protects and cares for the folx who live there now, but we think he wants to officially cross over." (of course there is mate) then this is an EXCELLENT browse." Except now it's been expanded to cover THE WHOLE WORLD - anyone can submit the strange stuff they see or experience, tagged to a specific location, so we can get an overall picture of where all the weird is worldwide. Sadly there are currently only two entries for the UK at present; one for a 'train time slip', where an otherwise-ordinary regional train in the midlands stopped at the same station twice(!), and another in Wales which I need to reproduce in full: "A door in a tree, didn't try and open it or knock, the resident probably gets enough humans bothering them. It could also be a portal." Reader, I scoffed, but then I noticed that there was a photo and OH MY GOD. Honestly, this site is just superb and I can't encourage you to explore it enough.
The Custom Movement: I imagine at least a few of you will be into trainers (sneakers? Kicks? Creps? Honestly, no idea), in which case this site may well be something of a goldmine (or route into rapid bankruptcy). The Custom Movement sells custom trainers, redesigned and 'remixed' by various artists and designers; some of these are wonderful, some are hideous, and all are guaranteed to make people think 'man, that person really wants people to look at their shoes'. Wallflowers and the fashion-backward need not apply, but if you're the sort of person who goes to Selfridges and buys those trainers with the massive velour wings attached to them (you know the ones I mean) then this could be your heaven.
The Symphony Project: Do we all know what the Blockchain is now? Yes? No? Does it matter? For the purposes of this website, not at all! All you need to know that the Blockchain here is presented as an excitingly-navigable 3d landscape, which lets you not only visualise but also hear the Blockchain in your browser. The developers "used a technique called additive synthesis to generate sound on the fly, and utilized the parallel nature of graphics cards to synthesize a sound for each of the thousands of transactions that can make up a block. The unique sound signature that plays when you visit a block consists of each transaction producing eight sine waves (a fundamental pitch and seven harmonics). The fundamental pitch is determined by the transaction value, and the amount of randomness added to the harmonics partials is controlled by the fee-to-value ratio of the transaction...The volume of the harmonic partials, meanwhile, is determined by the spent-to-unspent output ratio. This creates a range of sound that communicates the health of the block: a virtual heartbeat that codifies the volume of transactions and the number of transactions unspent." Look, I'll be honest, I don't understand much of what I just typed, but as a fancy bit of dataviz and exploration it's rather wonderful. Sounds awful, though.
Pago: This is a really interesting piece of design, collaboratively conceived of by Google and Panasonic; Pago is a sort-of combined torch and Google-machine and machine-vision device (yes, I know, but trust me, this is harder than you'd expect), designed to help kids access the power of the web for learning purposes without being tethered to a screen. The appealingly chunky Pago looks like a sort of trumpet; the idea is that kids can point it at whatever they are interested in, press a button, and the device will recognise the object, tell the kid what it is, allow them to learn more about it, and store it in the device's memory for later transfer to other devices for online scrapbooking, etc. It's only a proof-of-concept, I think, but it's a really nice combination of digital and physical.
Weather: Electronic musician Tycho's got previous for making interesting little webtoys to accompany their releases; their latest, Weather, is no exception, and the accompanying site is a delight. The gimmick is very simple - allow the site access to your location and it will pull weather data from...some data source; it'll then use that to craft a 25-song playlist for you, drawn from Tycho's back catalogue but also including a host of other artists too. Track selection will be determined by factors such as temperature, wind speed, etc, and having tried it a couple of times there appear to be enough tracks linked to it to make it reasonably reusable. Special mention to the site design, which is really very nice indeed - super-simple and all the better for it.
Moodfeed: A little Buzzfeed archive experiment, where you select what mood you're in from a list of 6 options (hungry, joyful, nostalgic, bored, curious and stressed, since you ask) and the site will spit out a selection of supposedly emotion-appropriate articles from the Buzzfeed back catalogue. It's an interesting way of getting people to engage with historical material, though I'm not sure exactly how much of Buzzfeed's intensely zeitgeisty stuff is really worth going back through at a distance of 12+months. I just tried telling it I was stressed (I am not - I am a Buddha floating on a lilypad, as per) and it suggested I look at a post entitled '55 Memes About Anxiety That Will Make You Say 'Me'!' which I'm not sure would have the intended de-stressing effect tbqhwy.
The San Francisco Disco Preservation Society: Like Disco? Well OH MY DAYS is this the motherlode you have been searching for! "The mission of the San Francisco Disco Preservation Society is to collect, restore, digitize, preserve, and present historic audio and video recordings pertaining to DJ and nightclub history in San Francisco and internationally, as well as educate, inform, and entertain the public and future generations through its archives, public events, screenings, and online access to its resources." There are classic disco mixtapes, and then selections from the 80s, 90s and 00s; honestly, the Summer 1975 one in particular is a DELIGHT.
Book Covers: I missed this last month - shame on me - but this is a typically nicely-done piece of infowrangling by The Pudding, looking at the visual similarity between book covers; not a topic you'd ordinarily think worthy of poring over, but this visualisation, created by machine learning, shows in beautiful fashion the less-than-original choices made by publishers. Once you start exploring, it's quite addictive to see exactly how often books quite shamelessly cleave to genre tropes when it comes to covers - and quite how bad so much of US book design is.
Input Delay: You know that incredibly annoying keyboard lag that you occasionally get when your computer's struggling under the weight of 100 open tabs (or is that just me?)? This site lets you simulate that exact experience to differing degrees of severity, which is perfect if you wanted to send yourself spiralling into a throb-veined funk just for the hell of it.
Critics Company: These kids got a load of media attention this week, and rightly so - Critics Company is a collective of young filmmakers working out of Nigeria, who are making some madly inventive scifi/horror-type shorts on their phone; obviously this isn't quite Hollywood, but the passion they have for it is infectious and I hope that their recent semi-fame gets them access to some better kit.
Stoic: I think I've spoken on here before about the weird adoption of the stoics as the alt-right-adjacent's philosophers of choice - stoicism is trendy in 2019, or at least the particular variant of it currently being espoused by Jordan Petersen and other such horrorshows of the modern age. Anyway, that probably explains in part the name choice for this new app, a MINDFUL JOURNALING EXPERIENCE (dear God save me), which each day will ask you how you're feeling and track your moods and ask you to record your musings and serve you content to address your emotional deficiencies and OH GOD CAN WE STOP EXAMINING OURSELVES FOR ONE FCUKING SECOND PLEASE? No? Ok then.
Fail Online: Via last week's B3ta newsletter (THANKS ROB!), this is a simple Daily Mail headline/article generator, which churns out frighteningly-plausible pieces at the press of a button. I just got "Huntswoman, 54, who was at centre of storm for whipping bleeding heart liberals and calling them 'uneducated peasants' was crushed to death by young muslim men at hunt", which is uncanny.
3d Cholera: I've featured John Snow's infamous map of cholera outbreaks in London before on here, but this new, whizzy version allows you to explore it in 3d, which is a really nice example of clever digitisation of old materials and a lovely piece of dataviz to boot. Click 'Switch to 3d' in the left-hand nav to enjoy looking a disease-related deaths across the city in the 1850s! So cheery!
The Map of Video Walks: This is quite wonderful - a Google Map which collects links to YouTube videos of walks, with each pin taking you to a first-person stroll around...somewhere. Fcuk that Buzzfeed thing up there - if you're feeling stressed, I very much recommend that you have a stroll around Sorrento instead (virtually).
Trails of Wind: I'm not particularly proud of this, but I confess to sniggering like a child every time I see this site name. Still, if you can get beyond the schoolboy humour (mine, to be clear, not the developers) then there's something weirdly interesting about this map of all of the world's airport runways, showing which direction they run in. You can explore the map yourself, or let you take it on a tour of the world's runways which, I promise, is significantly more interesting than I just made it sound; the project's more art than engineering in some senses, given its attempts to visualise the constraints placed on man-made construction by elemental factors outwith our control.
Typeloop: An app that lets you apply a range of rather cool animated text effects over your photos and videos, and, as is now de rigeur, then export those to use in your Stories in an attempt to leverage the novelty of a NEW TRICK to snare a few more views of the uninteresting, poorly-shot-and-narrated soap opera you are trying to make of your life.
By Frank Moth
NEXT, TRY THE GLITCHY, WONKPOP STYLINGS OF DAVID SHANE SMITH!
THE SECTION WHICH CAN'T WAIT TO SEE THE EXCELLENT ANNUAL FOOTAGE OF UNIFORMED POLICEMEN DAGGERING, PT.2: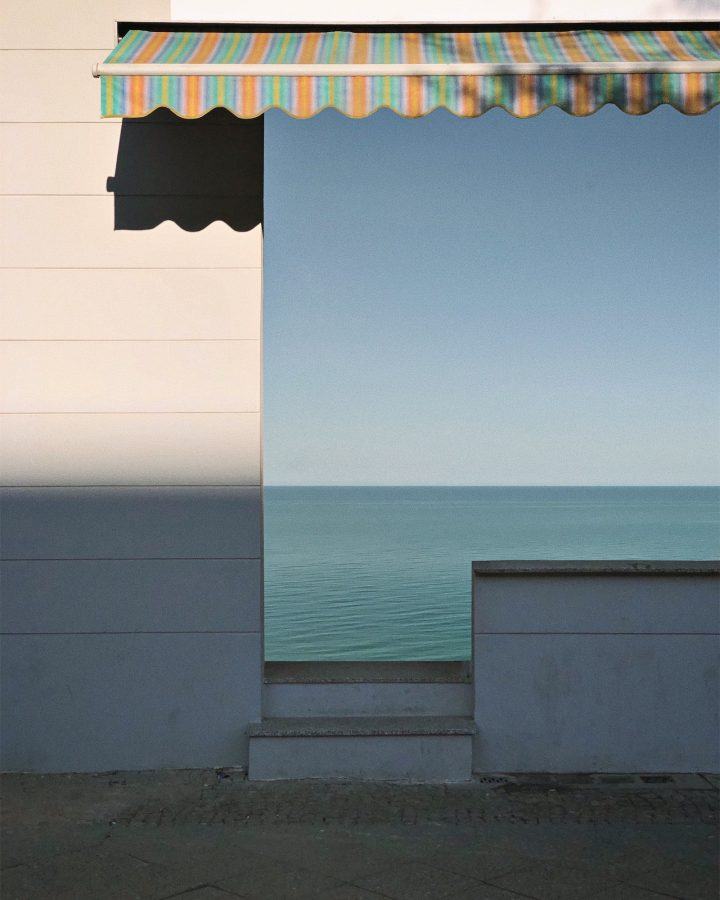 By Kiknavelidze
LAST UP IN THE MIXES, ENJOY DJ NATE'S CARNIVAL MIX 2019 AND HAVE A FUN CARNIVAL IF YOU'RE GOING!
THE CIRCUS OF TUMBLRS!:
THE TROUGH OF (INSTA) FEEDS!:
Bob Bicknell-Knight: I featured one of Bob's paintings in last week's Curios - Zuckerberg with felled antelope - and it's worth you checking out his Insta feed as it's rather wonderful.
Dolen Carag: You want a hand-carved human skull, turned into a lovely, bespoke piece of post-mortem art? You want some pictures of such skulls? YES YOU DO!
LONG THINGS WHICH ARE LONG!:
By the seemingly-unGoogleable 'Dennis S', more of whose photos you can see in this VERY NSFW collection
AND NOW, MOVING PICTURES AND SOUNDS!:
2) This is called 'Take Control' and it's by the Mysterines and it's just a great, hooky rock song - honestly, you'll be humming this fcuker all afternoon:
3) What's really going on in world politics? Shardcore and the computers explain:
4) Excellent indiepop now, by Kitten - the track's called 'Memphis':
5) BRAND NEW MISSY ELLIOT! Still excellent, and this is a corking video - the teeth freak me out rather, though:
6) I heard this yesterday and thought 'Hm, this sounds almost exactly like I would imagine having a panic attack on the underground would sound if panic attacks made sound'. See what you think! It's by Uniform and the Body and it's called 'Day of Atonement':
7) This is by Shi Online, whoever they are - it reminds me weirdly of Die Antwoord, if Yolande was the only one fronting them up. It's...odd, but weirdly catchy and poppy despite being very much not really pop at all. This is 'Где ты':
8) There's a sort of odd Sleaford Mods / Iggy Pop-type vibe to this, by Tropical Fcuk Storm; see what you think, but I rather like it:
9) Finally this week, this is PURE INTERNET. Cashmere Cat, with 'Emotions'. No, I am not sorry, I promise you that by the end of the track it will make a sort of weird sense, in a sort of 'oh, so this is the 21c equivalent of Alvin & The Chipmunks, I get it' way. Oh, and THAT'S IT FOR THIS WEEK THANKS FOR READING I HOPE YOU HAVE A LOVELY BANK HOLIDAY IN PROSPECT AND THE WEATHER STAYS NICE AND YOU HAVE AT LEAST ONE CONVERSATION WITH SOMEONE WHICH MAKES YOU FEEL HOPEFUL AND THAT THE NEXT WEEK IS AS GENTLE YOU NEED IT TO BE AND THAT YOU TAKE CARE AND THAT YOU KNOW THAT I LOVE EACH AND EVERYONE OF YOU BYE I LOVE YOU BYE TAKE CARE BYE!: