HELLO I AM BACK MY GOD I HAVE MISSED YOU! I went to Spain! I saw some sun! I met an Australian millionaire who was responsible for coating one of Perth's major roads with 1000 litres of concentrated sulphuric acid a few years back! I saw young women who'd had such aggressive lip-fillers that they literally had to move their mouths with their fingers to be able to drink from a bottle! I had a time.
In my absence, it appears that noone's seen fit to sort the world out at all - what the fcuk have you been doing with yourselves? Anyway, with little further ado, let's crack right on with the links and the words and stuff - I imagine that your past two Fridays have been miserable and work-filled and without the usual slightly queasy LOLs afforded you by my sparkling prose - strip down, grease up, and prepare to squeeze yourself into the tight-fitting cloaca that is this week's infodump. I am Matt, this is Web Curios, and you have no idea how good it is to be back.
By Mark Tansey
FIRST UP, A LOVELY NEO-SOUL-ISH END-OF-SUMMER EP BY HALIA JACK!
THE SECTION WHICH, BASED ON THE PAST WEEK'S NEWS, FEELS BROADLY POSITIVE ABOUT THE PROSPECT OF ESCAPING INTO ZUCKERBERG'S VIRTUAL BIG BLUE MISERY FACTORY:
NEXT UP, MORE MODERN SOUL FROM OLIVIA LOUISE AND HER NEW EP 'NO PHUX'!
THE SECTION WHICH RATHER HOPES THIS TREND FOR IMPEACHMENT CATCHES ON OVER HERE, PT.1: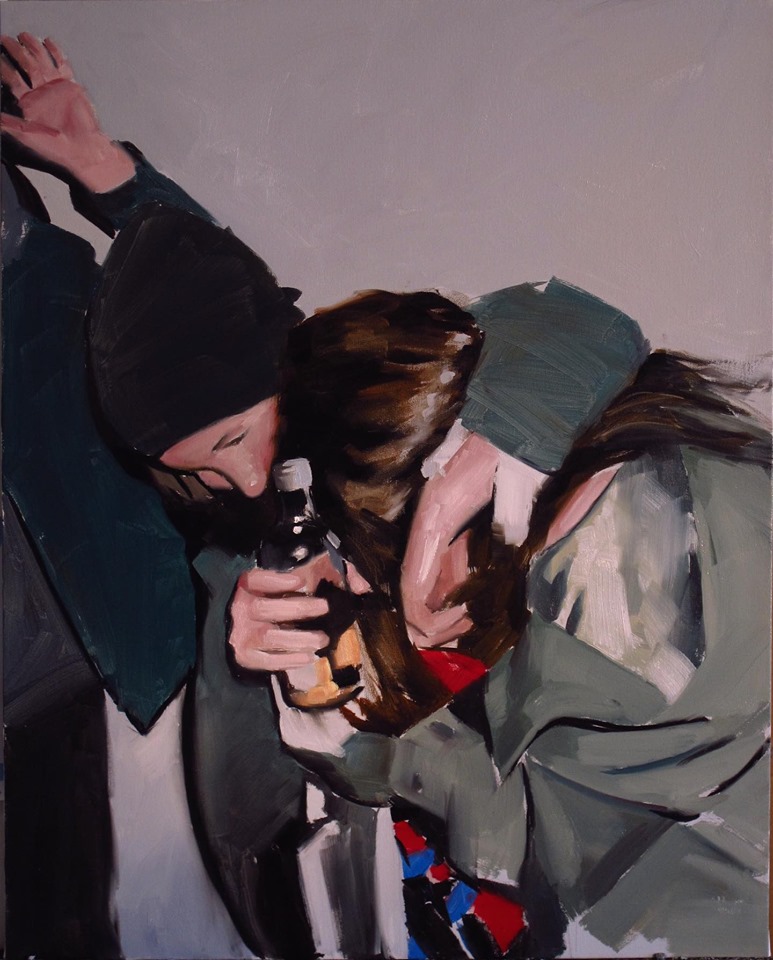 By Mark Tennant
NEXT, TRY THE RATHER EXCELLENT CHIPTUNE-Y SOUNDTRACK TO THE VIDEOGAME 'SAYONARA WILD HEARTS'!
THE SECTION WHICH RATHER HOPES THIS TREND FOR IMPEACHMENT CATCHES ON OVER HERE, PT.2:
LAST UP IN THIS WEEK'S MIXES, HAVE AN HOUR-LONG CUT OF THE MYSTERIOUSLY-NAMED BUT RATHER LOVELY 'SOVIETWAVE'!
THE CIRCUS OF TUMBLRS!
THE TROUGH OF (INSTA) FEEDS!:
LONG THINGS WHICH ARE LONG!:
By Shohei Otomo
AND NOW, MOVING PICTURES AND SOUNDS!
1. Let's kick off with this wonderful song by Vagabon - the vocal is wonderful, I love the slightly shiny minimalist vibe of the track overall, and the dancing in the vid is mesmerising; the song's called 'Water Me Down':
2. Awesome video, this, and the song's not bad either. This is Anyway Gang, with 'Big Night'; the song's an excellent indie disco banger, but the 16-bit game in the video's the real star here:
3. Belle & Sebastian's latest. I fcuking love Belle & Sebastian. This is called 'This Letter':
4. This is called 'Tape', by a band called Canigou. I could watch this video forever - honestly, it's like animation done by a neural net or something, it's mesmerising:
5. UK HIPHOP CORNER! I got goosebumps listening to this - SBTV Warm Up Session by Deyah - there's something really pleasingly understated about her delivery here, but the words are fire, as I believe the kids say, and her flow is amazing when she ramps it after the first 90s:
6. MORE HIPHOP CORNER! This is the latest track from Tyler and it is SUPERB. This is A Boy Is A Gun:
7. Last up, an excellent video which seems apt given this week's news. This is called Natural Born Killers, and it's by James Massiah AND THAT'S IT FOR THIS WEEK IT'S SO GOOD TO BE BACK I'VE MISSED YOU AND I HOPE YOU HAVE A WONDERFUL WEEKEND AND THAT YOU GET TO RELAX AND MAYBE FORGET ABOUT ALL THE SCARY THINGS FOR A BIT AND INSTEAD JUST DO STUFF THAT YOU LIKE AND ENJOY AND MAYBE HANG OUT WITH FRIENDS AND JUST GENERALLY ENJOY YOURSELF BECAUSE I ONLY WANT THE BEST FOR YOU I LOVE YOU I LOVE YOU TAKE CARE I LOVE YOU BYE I LOVE YOU BYE!: